All right, I promised you more posts, and more posts ye shall receive (although you'll probably get a lot more posts in summertime, when I have more free time).
Here's something I've seen a few other bloggers do, so I decided to also do it. It's called letter blogging (I think). What it basically is is I designate one post to every letter of the alphabet and write about things that start with that letter.
So, here goes "A":
Arnold Schwarzenegger:
Arnold enjoys life.
Ahh, the action movie-star-turned-governor-turned-action movie star.
Akbar & Jeff:
These characters are from Matt Groening's "
Life In Hell
" comic strip. These guys often contemplate life and stuff in the comic, and they also made fezzes awesome.
Ant Man:
"Wait, who?"
"Just watch the movie."
"Okay."
Marvel has recently started a trend of
introducing obscure characters into movies
, and this is next in line. Nobody on the face of the planet had ever heard of this guy beforehand, but we're still all gonna watch this movie.

Arcades:
I will beat Ms. Pac-Man. I swear it.
Azrael: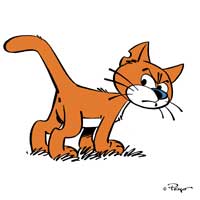 Gangsta stare.
The cat from The Smurfs that wants to eat the Smurfs. I guess they taste good. Probably not, though. They probably taste all disgusting.